Collated by Alison Leslie.
Modern Aberdeenshire encompasses historic Aberdeenshire, Kincardineshire and part of Banffshire.  To the south it borders Angus and Perth & Kinross, to the west Highland and Moray, and to the east Aberdeen City.
Aberdeenshire is the only unitary authority where the council headquarters are not within the authority boundary.  They are in Aberdeen, based at Woodhill House (Home – Aberdeenshire Council).  The city of Aberdeen is a unitary authority in its own right.  The "Zoom Into Aberdeen City" can be found at https://blog.nls.uk/zoom-into-aberdeen-city/
Traditionally the region's main employment was in farming, fishing and forestry.  The oil boom prosperity spread out of "the City" and into "the Shire". Today the energy sector, including sub-sea technology, along with their support companies, still provides many jobs.
Where to find local collections:
There are small local collections held at branch libraries throughout the county, with the main collection being held at Library Headquarters in Old Meldrum.
Aberdeenshire Libraries Heritage – Live, Life Aberdeenshire (livelifeaberdeenshire.org.uk)
Aberdeenshire Council Archives, administered by Aberdeen City Council. Aberdeen City and Aberdeenshire Archives | Aberdeen City Council
Books
National Countryside Monitoring Scheme, Scotland : Grampian, Nature Conservancy Council, and Countryside Commission for Scotland,1988. https://search.nls.uk/permalink/f/hha760/44NLS_ALMA51633409920004341
A Study into the Knowledge and Use of Scots amongst Primary Pupils on Upper Deeside by Sheena Blackhall, 2000. https://search.nls.uk/permalink/f/hha760/44NLS_ALMA51591443800004341
The Peterhead Almanac (and Buchan) Directory, 1853. https://search.nls.uk/permalink/f/hha760/44NLS_ALMA21475959790004341
Book – fiction
Sunset Song by Lewis Grassic Gibbon, 1932. https://digital.nls.uk/205174251 Set in the old county of Kincardineshire, now incorporated into Aberdeenshire unitary authority, Sunset Song was voted Scotland's favourite book as part of the BBC's Love To Read Campaign in 2016. The manuscript, and other books written by Lewis Grassic Gibbon, (the pseudonym of John Leslie Mitchell) are held in our Manuscripts Collections. The books of Lewis Grassic Gibbon which have been digitised can be found at The books of Lewis Grassic Gibbon – National Library of Scotland (nls.uk)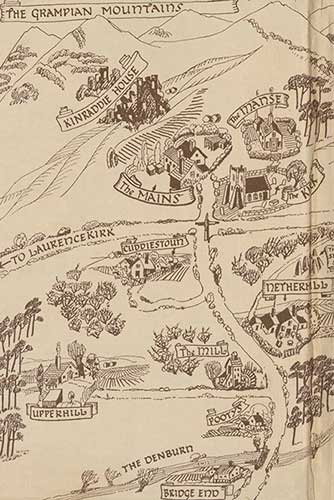 Film
"Kippers" filmed by Joint Production Film [Aberdeen Production Group], 1950 [In the Moving Image Archive] https://movingimage.nls.uk/film/1760 Peterhead got its nickname the "Blue Toon" through the colour of the fishermen's knitted jerseys. The town is the largest Scottish port, so there were lots of blue jerseys around when the nickname was first coined. The pattern of the jerseys differed according to the home port of the fishermen.  Often the initials of the fishermen were worked into their jersey as well. Peterhead is the largest town in the county.
The Dee Valley, Maria and Michael explore, 1959. https://movingimage.nls.uk/film/0586 This lovely educational film shows the children travelling up Deeside, by boat, train and bus from the harbour at Aberdeen to Braemar.
Manuscript collection
The Hutton Drawings are a collection of over 500 drawings, maps, plans and prints relating mainly to Scottish churches and other ecclesiastical buildings.  A few depict castles or other secular dwellings.  These drawings date mostly from 1781-1792 and 1811-1820 and are arranged by county.  Some drawings are by George Henry Hutton, a professional soldier and amateur antiquary, who complied the collection. Volume One contains the drawings for Aberdeenshire.
Inscription on a stone 6½ feet high (Granite) Newton, Aberdeenshire by James Hutton and George Henry, 1821 [In Hutton Drawings]. https://digital.nls.uk/74635188
Image of Abbey of Deer by George Henry Hutton.
Maps
Ordnance Survey 25 inch to the mile, Aberdeenshire III.1 (Fraserburgh) by Ordnance Survey, 1869 [In Map Images]  https://maps.nls.uk/view/74479967 This first edition 25 inch to the mile Ordnance Survey map shows Fraserburgh in the late 1860s.
Aberdeen, Banf [sic], Murrey [sic] &c. to Inverness : [and] Fra the north water to Ross by Robert Gordon, 1640. https://maps.nls.uk/view/00000356
A list of maps of the historic county of Aberdeenshire https://maps.nls.uk/counties/aberdeenshire.html
An e-resource
The following article from the Press and Journal describes how yellow fish were stencilled onto the ground beside drains in Stonehaven in an attempt to deter people from dropping litter down them and causing blockages. Hopes fishy goings on with drains will help to put off litter louts by Press & Journal, The (Aberdeen, Scotland), May 12, 2021, p22 [In Newsbank.com] Article can be viewed here after registering
A business
Starting business in 2007, BrewDog has gone from strength to strength from their first building in Fraserburgh.  After only two years the firm became Scotland's largest independent brewery.
 Be. More. BrewDog by James Watt,  2020. https://search.nls.uk/permalink/f/sbbkgr/44NLS_NPLD_EBK019603237 [available within the Library only].
Business for Punks : Start Your Business Revolution – the BrewDog Way by James Watt, 2015. https://search.nls.uk/permalink/f/sbbkgr/44NLS_NPLD_EBK017534536 [available within the Library only]
A person
Aberdeenshire has a fine literary tradition.The Library holds the manuscript of several authors based in the county.
Nan Shepherd wrote her most famous book The Living Mountain about the Cairngorms, accessing them from her home on Deeside. Her novels are also set amongst the Deeside communities. Shepherd features in the Library's latest exhibition, Petticoats & Pinnacles: Scotland's pioneering mountain women. https://blog.nls.uk/tag/nan-shepherd/
A friend and correspondent was Jessie Kesson who had been moved to an orphanage at Kirkton of Skene and spent some time living in the county. https://wee-windaes.nls.uk/jessie-kesson/
https://www.nls.uk/exhibitions/treasures/jessie-kesson/literary-archive/
A song or piece of music
Marchioness of Huntly's Strathspey and Reel by William Marshall and Donald McDonald, 1814. https://digital.nls.uk/special-collections-of-printed-music/archive/102744635 [From the Glen Collection of Printed Music]
The Peat Fire Flame by Alasdiar Alpin MacGregor, 1937. https://digital.nls.uk/81148879 [From The Ossian Collection]. The story behind the Reel of Tulloch is related on page 189.
A ghost/mythical creature
History of the family of Seton, by George Seton, 1896. https://digital.nls.uk/96852018 (see page 433 of the digitised version, page 973 of the book). The ghostly Green Lady of Fyvie is reputed to be Lilias Drummond who was locked in the castle by her husband Alexander Seton because she couldn't give him a son and heir. Following a failed rescue attempt by her family, she starved to death.
A castle or other historic building
Scenery of Braemar, Balmoral, Loch-na-gar, &c., Nelson's pictorial guide-books, circa 1865. https://search.nls.uk/permalink/f/sbbkgr/44NLS_ALMA51591466920004341 Amongst the many castles in Aberdeeenshire, perhaps the most well known is Balmoral.  The original building was re-modelled by Prince Albert for Queen Victoria. The Queen's love for the area and its mountains inspired many people to visit. Tourism is still an important industry to the whole region.
Food
 Aberdeen Angus by Campbell Harper Films Ltd, 1947 https://movingimage.nls.uk/film/0277 [Moving Image Archive] An introduction to the Aberdeen Angus cattle breed.  It is interesting to compare how the animals featured here, from 1947, compare to the breed standard of today. The beef from Aberdeen Angus is highly prized for its tenderness and flavour, caused by the meat's natural fat marbling.
Pastry book, Elgin, by Jean Robertson, 1749. https://digital.nls.uk/102697144 [From resource Recipes from Scotland]
 A photograph
Field Marshal Sir Douglas Haig Talking to a Sergt. Major of the Gordon Highlanders Who Formed the Guard of Honour, 2005. [In Photographs of Haig] https://digital.nls.uk/74547040 A picture from our Earl Haig Collection of photographs from World War One showing soldiers from the local regiment for Aberdeenshire, the Gordon Highlanders.
Something about a county town
Inverurie, is the largest town in the county, recently overtaking Fraserburgh, after large scale development.  The area around Inverurie is known as The Garioch (pronounced "geary" as in the gears of a car).
Aberdeenshire LIV.8 25 inch to the mile, first edition, by Ordnance Survey,1892. https://maps.nls.uk/view/74477931#zoom=5&lat=3512&lon=11900&layers=BT The oldest part of the town is named after the local character Meg the Glutton.
 Inverurie and the Earldom of the Garioch by John Davidson, 1878. [In Histories of Scottish Families] https://digital.nls.uk/95273703
Something about a small place
The story of Muir of Dinnet National Nature Reserve, by Scottish Natural Heritage, 2008. https://search.nls.uk/permalink/f/hha760/44NLS_ALMA51632137980004341
Further reading
Huntly: capital of Strathbogie: the town of the tower and the linden tree by Cyril A. Barnes, 1998. https://search.nls.uk/permalink/f/sbbkgr/44NLS_ALMA21558720860004341  Huntly used to be known as Milton of Strathbogie, or just Strathbogie.
Haddo House: A Tour of the House by David Learmont, 1981. https://search.nls.uk/permalink/f/sbbkgr/44NLS_ALMA21483042030004341 Haddo House is a Palladian style stately home designed by Robert Adam in 1732.  It was re-modelled in 1882, and was a maternity hospital during the Second World War.
The People of Leslie, Premnay and Oyne, 1696 by W. Diack, Bill Beverly Aberdeen Northeast Scotland Family History Society, 2001. https://search.nls.uk/permalink/f/sbbkgr/44NLS_ALMA21439428590004341 Leslie, Premnay and Oyne are villages in Aberdeenshire.